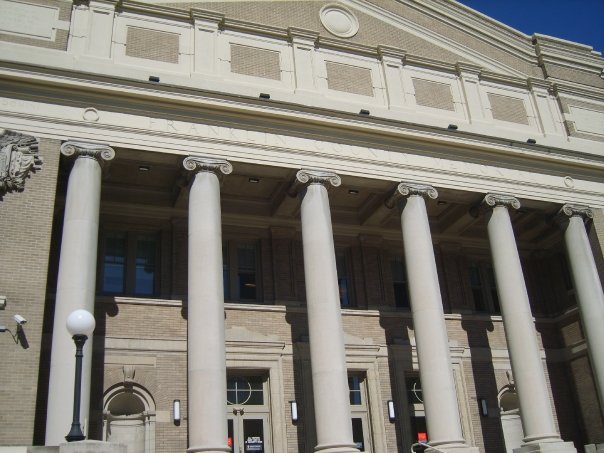 All information on this page comes from the book: Memorial Hall: Biography of a Building by Evelyn M. Graham and Myron T. Seifert (1973). It's a neat book and the Columbus Library has several copies available (although only a few for checkout).
Before Construction
1837:The financial panic of 1837 risks the reputation of the state of Ohio. Mr Alfred Kelley, pledges his land on Broad Street (the future home of Memorial Hall) as collateral to keep the state going. His family will continue owning the land until 1896.
1860s/1870s: The idea of building a memorial building to honor soldiers and sailors from Franklin County is conceived, but action is slow.
1887: Bids and propositions for a location of Memorial Hall are submitted to the local Memorial Hall Commission and County Commissioners. 22 sites were proposed and 16 sites bids were received. The Commission almost agreed to a location on Front and Town Streets.
Late 1880s/1890s: Several other pushes for the building to be created are made, but none are followed thru.
1896: The Arion Club of Columbus (music group) recognizing the need for an "auditorium with an adequate stage and seating capacity," creates The Auditorium Site Company which buys the Broad Street property from the Kelley family. The club had raised a considerable amount of money to build the facility and had plans laid out, but the panic of 1893-97 killed their plans for an auditorium.
1899: Emerson McMillin buys the future Memorial Hall location from the Auditorium Site Company.
1901: Emerson McMillin, president of the Gallery of Fine Arts, donates the property for construction of an Art Gallery and School. It's decided that an Art Gallery in Franklin Park would be better though and the property is sold. The Art Gallery was finally built on Broad and Washington in 1931.
1902: The state legislature passes a bill authorizing each county to issue bonds for construction of a memorial building. The bill is signed by Governor George K. Nash (1900-1904). The Ex-Soldiers and Sailors League voted to promote a bond issue for such a building in Franklin County. The bond passed on election day, November 4th.
Construction and Opening
1903: After 42 different locations were offered and examined, the Broad Street location was selected for the site of Memorial Hall (would become 280 East Broad Street) on March 26th. It was purchased for $30,000. Quickly becoming nationally known Columbus architect Frank L. Packard's plan for the building was accepted in May. Bids were taken for construction and on November 7th, a contract was signed with W.H. Ellis & Company of Cincinnati for $211,305 to build it.
1904: Because of some irregularity, the construction contract was held invalid. The architect revised plans and Donnelly and Dewey Construction Company won the new contract (although they reassigned the work back to Ellis & Company).
1905: The cornerstone is laid on October 11th. "Governor Myron T. Herrick performed the traditional rite assisted by Veterans of Mexican, Civil, and Spanish-American Wars." An iron box was placed in it with a brief history of the organizations that helped build it, a deed and contract, and all the cities newspapers. With funds used up, the Columbus Board of Trade donates $20,000 to decorate the interior of the building.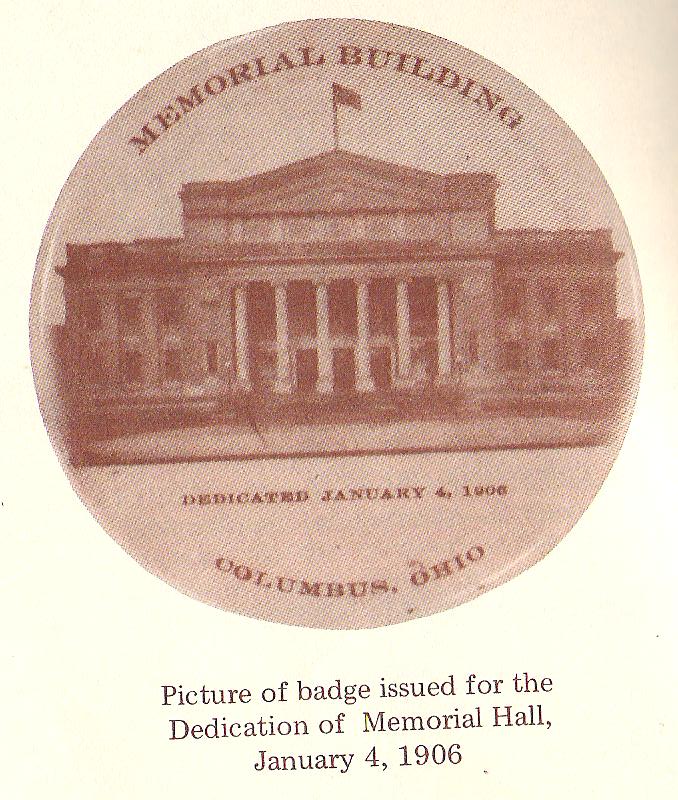 1906: Following a parade of soldiers, sailors and other organizations in whose honor it was built (31 in all), Memorial Hall is dedicated. The Ohio State Journal reports:


The New Memorial Hall is the second largest in seating capacity in the United States. Madison Square Garden has a seating capacity of 5,500. Memorial Hall will seat 4,200 and this number can be increased to 5,000 by adding chairs.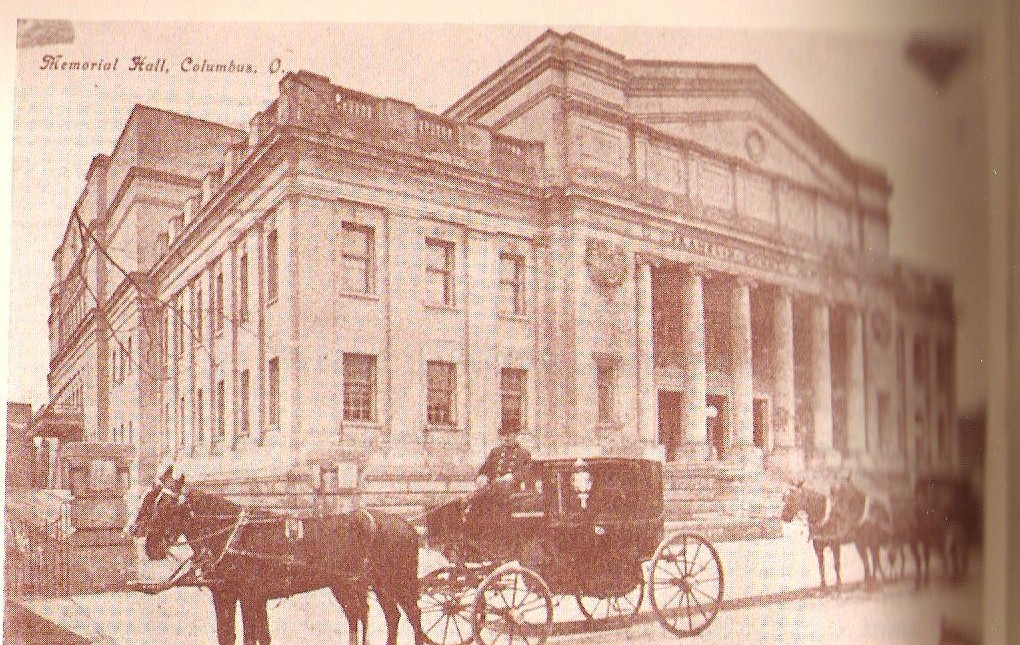 Memorial Hall in Use
1906-1956: Memorial Hall would host a number of events over the years including:


Many, many bands and musicians including: Rudolph Valentino, Paul Whitman, and the Vienna Boys Choir.


Conventions of state, national, and worldwide church denominations.


Speeches by William Jennings Brian, Homer Rodeheaver, and DeWolfe Hopper.


Sporting events and other physical shows such as demonstrations by Giovanni Mazzan (supposedly the world's strongest man), high school basketball games, boxing, and wrestling. There were considerable restrictions of these types of events in the hall until 1958 when Memorial Hall was struggling.


High School graduations.


Political and religious debates that filled the hall.


Early radio shows were broadcast in Memorial Hall.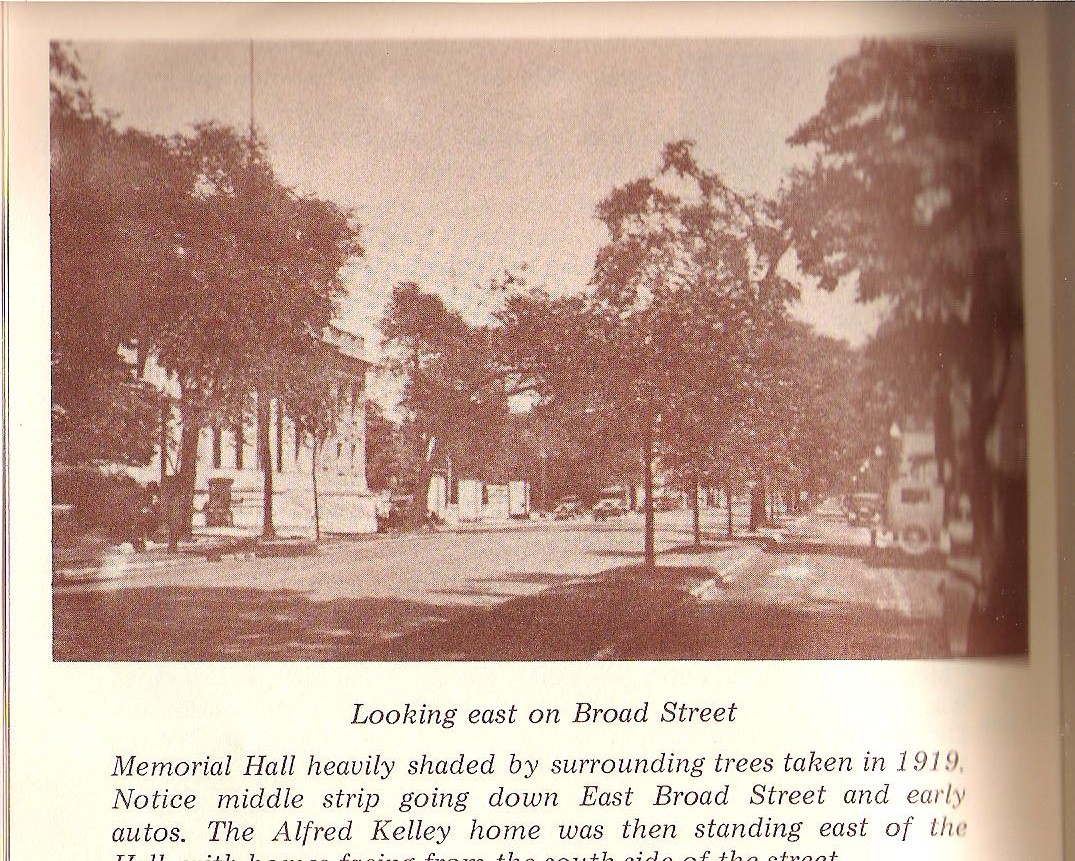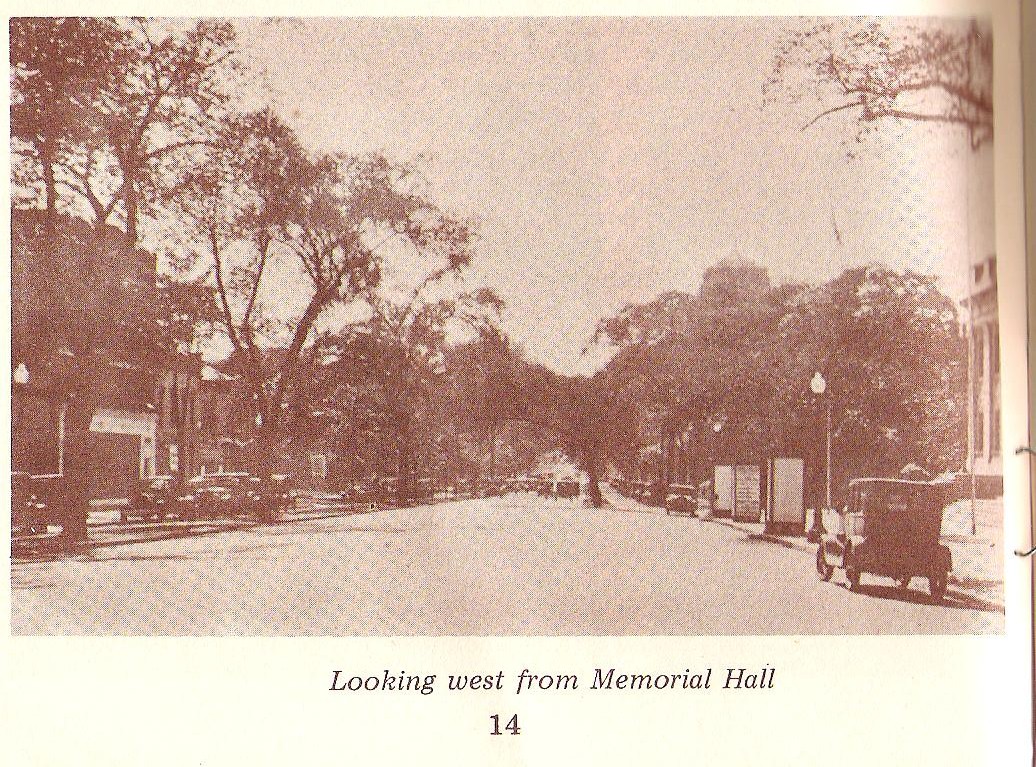 1917-1919: Headquarters for the Draft Board during World War I. Examinations and claims for exemptions were heard here. Former President Teddy Roosevelt, Vice President Thomas R. Marshall, and Belgium King Albert spoke at the hall during or just after the war. A "welcoming party" welcomed soldiers back from the war. Big dances and entertainment were held throughout the night at Memorial Hall.
1919: Woodrow Wilson began his League of Nations campaign at Memorial Hall.
1919-early 1920s: A 2-day carnival presented by the Children's Hospital Twigs.
Early 1930s: The charity Newsies set up its headquarters in Memorial Hall. It supplied many Columbus area kids with clothes during the 1930s Great Depression.
1930s: Surplus food was distributed from Memorial Hall during the 30s Depression.
1941-1945: During World War II, Memorial Hall served as a ration center for tires and gasoline. The cannons, which had sat in front of Memorial Hall, were given to up to scrap to be used for supplies for World War II.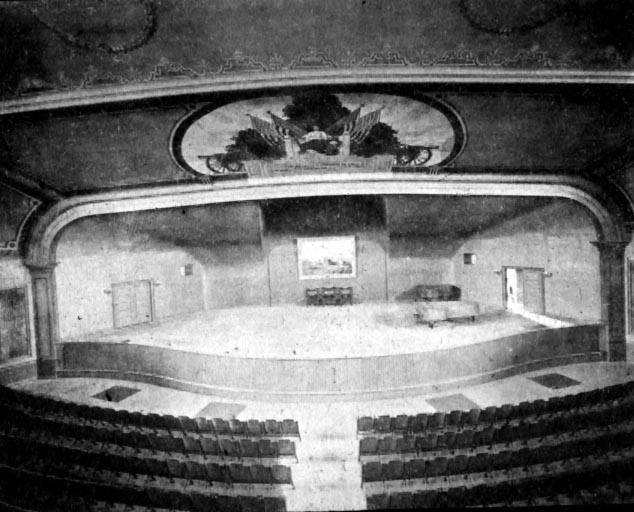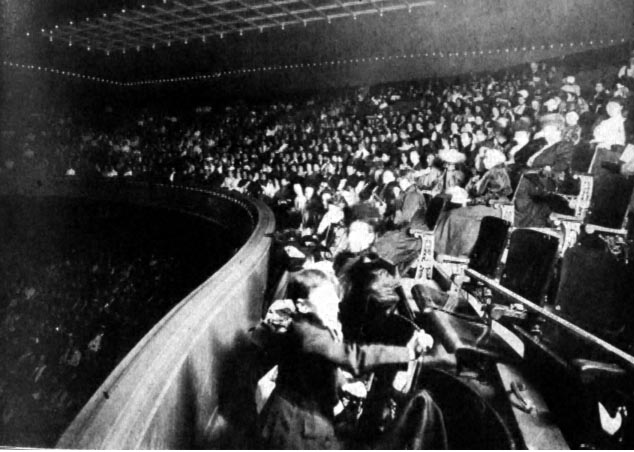 1953: Permit granted to Franklin County Senior Citizen group to occupy the basement of Memorial Hall.
1955: Veterans Memorial opens and will offer competition for Memorial Hall.
1956: Franklin County Historical Society is moved to Memorial Hall from a small section on the 2nd floor of the Columbus Library.
Transition Period
1956-1962: Boiler problems lead to lack of enough heat in Memorial Hall during the Winter. Building continues to deteriorate as $25,000 a year from the county plus a small amount from wrestling is not enough to keep it up. Its auditorium is still considered the best though.
1958: Memorial Hall opens up to more sports. The new Veterans Memorial complained about the increased use of sports (wrestling), as Memorial Hall would charge cheaper prices.
1958: Sanford N. "Sandy" Hallock writes a proposal about creating a Center of Science and Industry.
March 29th, 1964: Franklin County Historical Society opens the Center for Science and Industry (COSI) in Memorial Hall.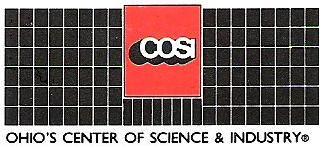 Click here to go to old COSI history.
After COSI
September 6th, 1999: COSI closes at its original location and relocates to West Broad Street across the street from Veterans Memorial. The facade Solar Front is removed from the building, bringing its look back to its traditional view. The building in converted to office space.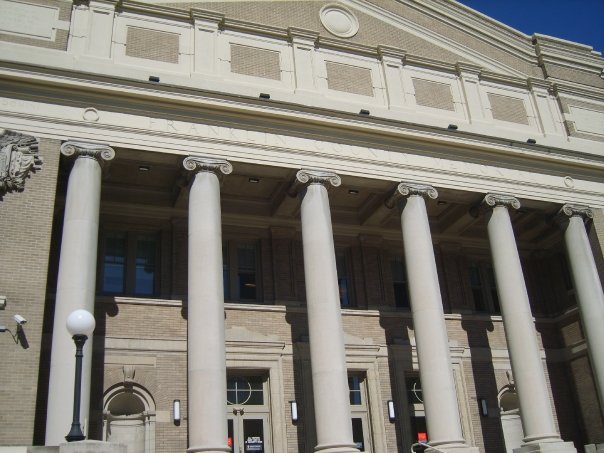 If you can add something to this history, please e-mail me at ericupp@gmail.com or leave a comment on the Facebook group, The Old COSI.
All information on this page comes from the book: Memorial Hall: Biography of a Building by Evelyn M. Graham and Myron T. Seifert (1973).