1906-1964, 1999-present:For Memorial Hall history click here.

March 29th, 1964: The Franklin County Historical Society opens the Center for Science and Industry (COSI) at the old Memorial Hall on 280 East Broad Street. (1) It opens on Easter Sunday to 4,000 people (7) with the following mission statement:
COSI provides an exciting and informative atmosphere for those of all ages to discover more about our environment, our accomplishments, our heritage, and ourselves. We motivate a desire toward a better understanding of science, industry, health, and history through involvement in exhibits, demonstrations, and a variety of educational activities and experiences. COSI is for the enrichment of the individual and for a more rewarding life on our planet, Earth.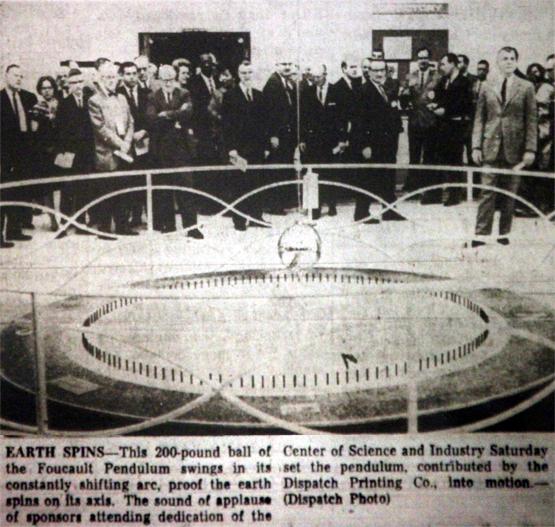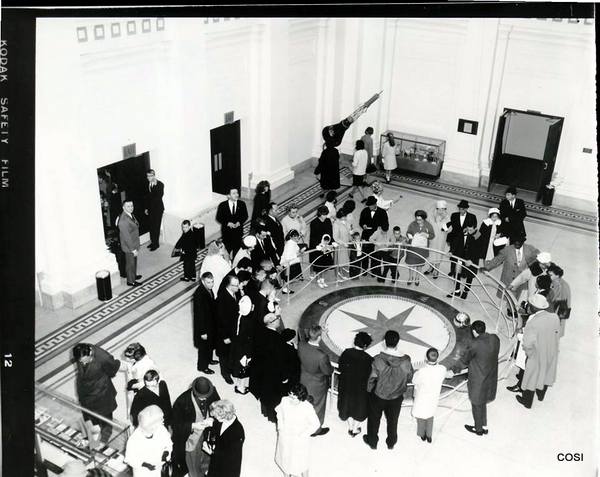 The Center for Science and Industry opens with these and other exhibits(9):


The Battelle Planetarium


The Transparent Talking Woman


The Lazarus Auditorium


The Franklin County Hall of History


The Dispatch Foucault Pendulum


The Durell Street of Yesteryear


"A Science-Industry area featuring exhibits on communications, aviation, electricity, natural gas, engineering, and other topics."


"A Health Science area featuring exhibits on the heart, teeth, lungs, human reproduction, and nutrition."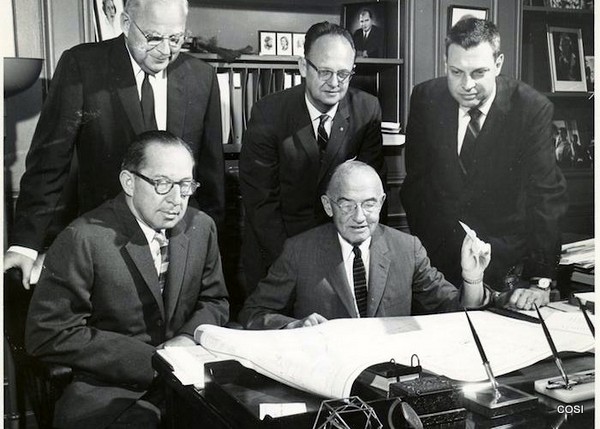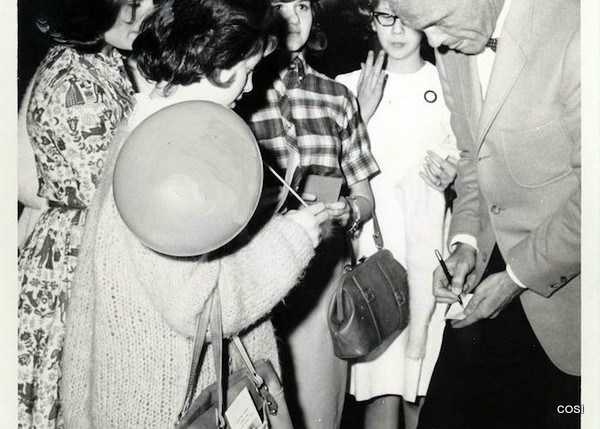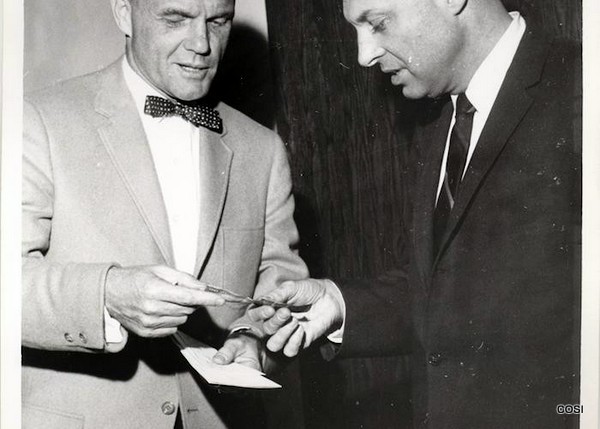 1964/1965: The World's Fair in New York City shows the Triumph of Man exhibit. This exhibit would then make its way to COSI. (2)

1965: 48,000 school-group reservations are made for April and May.

1966: Overall attendance surpasses 300,000 in August. (7)

1967: Authentic papermaking shop opens. (7)

1960s Other exhibits would open through the 60s including (9):


Oaklye, the talking car


The Optical Illusion Show


The Weather Station


Voltaire, the electric eel


The Story of Steel


The Summer Kitchen (area of the Street of Yesteryear with the wool)


NASA replica of John Glenn's "Friendship 7" Mercury capsule

1968-70s: The television show, "The Man from COSI" airs. It is hosted by Sandy Hallock and Dan Prugh (COSI's and the Franklin County Historical Society executive directors). It ran weekly and featured live science experiments and interviews with people in various fields related to science and industry. The show received a local Emmy award for best news, public service, or documentary show.

November 15th, 1969: Dave Thomas opens Wendy's first restaurant across the street from COSI.

1960s or 1970s: The Sights and Sounds newspaper is first printed. It will inform guests about what is going on at COSI for a long time.

August 1970: COSI hosts is 1 millionth visitor. Public attendance is complementing school group attendance. (9)

1970s: The Christmas season "is celebrated every year this decade with the lighting of the International Christmas Trees." The decade would also see many workshops, classes, and courses during every part of the year. (9)

1970: Centerisma is "an evening gala put on at COSI by the COSI Women's Association to benefit the Center's operation." It becomes an annual event.

1972: First Camp-In program is held. More than 3,000 Girl Scouts participate in the program during two weekends in January. Camp-In is later replicated at educational institutions worldwide, but it started here. (7)

1973: This is a huge year for COSI.


The solar front is added to encase and preserve the "Old Memorial Hall" in addition to giving the building a new look and harmonizing it with neighboring new buildings. (4)


The 3rd floor is also added. Both the Solar Front and 3rd floor expansions were paid for with gifts from many people and matching donations from the Battelle Memorial Institute (4).


This year also marks the opening of two COSI staples the electric static generator and Jeffery Coal Mine #1. (7)


The Association of Science-Technology Centers (ASTC) is founded with COSI as an original member. Sandy Hollock (started the ball rolling on creating COSI, 20 years earlier) is elected its president in 1978. (9)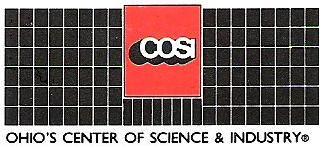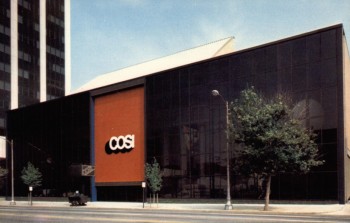 1974: Tinsmith opens and volunteers start showing guest how to make tin objects.


The Durell Farm Museum, featuring original tools by early American settlers, is completed. (7)
1975: "The Presidents Exhibit, a gift from Nationwide Insurance Cos. for the bicentennial, is unveiled. It features likenesses of the U.S. presidents with a biographical sketch and famous quote from each." (7)


"The "Think Metric" exhibit, one of the first in the country, opens." (7)
Unknown: Susan Burchfield becomes COSI's first 1000 hour volunteer. Before the old COSI closed in 1999, being 1000 hour volunteer would become enough to give you a lifetime membership to COSI. That would cost $1000 otherwise. All volunteers and employees knew the one sentence they were never allowed to say was, "I don't know." (5)
1976: Caboose is added.


The Physical Science area is expanded with a do-it-yourself exhibit, allowing visitors to perform entertaining chemistry experiments. (7)
1977: COSI is selected as a trial center for a series of children's health activities developed at the Lawrence Hall of Science, Berkeley, Calif. (7)


Also this year, "COSI is one of 10 museums to participate in a nationwide program called Young Energy Savers.(7)


During the 1977 holiday season, more than 2,800 visitors pedal special bicycles in the Xerox-sponsored "Light the Tree" exhibit to generate electricity for the national Christmas tree in Washington D.C." (7)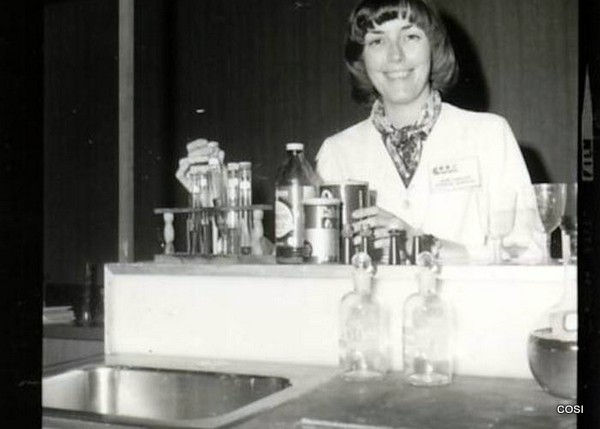 1978: "The Model Railroad and History of Ohio Transportation exhibits are dedicated." (7)


COSI also adds "a Physical Science Mall and Theater provide a central area for chemistry, perception and energy demonstrations." (7)
1979: "The Pre-Natal Exhibition incorporates a computer to offer information on pregnancy and babies." (7)
1970s: Other Exhibits added in the 70s include: (9)


The Life Science Lab and Drug Show


Crime Prevention


An expanded heart exhibit


Apollo Space Capsule Replica
1979/1980: The whimsical robot ISOC - COSI spelled backward - greets visitors during a special recycling week. ISOC's body was built by our Master Wood Craftsman Don Collins in the woodshop of Old COSI. John Carmony, Jay Crib, and everyone in the Electronics Shop worked to put it together. (8)
1980: ISOC's pet, RODOG make his first appearance with Visitors. He was only the 3rd robotic dog in history. (The first two were from Doctor Who's "K9" and in the old Battlestar Galactica). (8)
1981: "A new Free Enterprise area, housing Trading Post No. 10 from the New York Stock Exchange, is established." (7)


"COSI Cosmic Concerts, a dazzling array of laser lights orchestrated to the sounds of Pink Floyd's The Wall album, is shown in the Planetarium." (7)
1983: The Triumph of Man exhibit is reopened on Aug. 3 as the "Time Tunnel."


Also "The new Solar Front entryway is dedicated to the memory of S.N. Hallock II, COSI's first executive director." She died suddenly that year and the new Great Gravity Gizmo is also dedicated to her.(7)


COSI helped establish "the Science Museum Exhibit Collaborative, a group of eight major science centers who agreed to create an ongoing series of top quality, blockbuster exhibits that would travel to each of the member institutions." In addition to others listed below, this would include, My Daughter, the Scientist, Robots and Beyond-The Age of Intelligent Machines, and Space Spinoffs. (9)
1984: "The COSI On Wheels outreach program is launched, taking science programs to classrooms and festivals throughout Ohio and surrounding states." (7)


KIDSPACE opens. This opens learning chances even for very young children. This includes "activities such as Waterworks, Animalab, Bubbles and Build-a-House." (9)
1985: "Visitors are invited to help fill two giant time capsules that will be opened in the year 2000."
1986: "A $100,000 grant is awarded to COSI for sponsorship of "The Dinosaurs!"" (7)
1987: COSI's Visitor Service Strategy (5) is adopted and reads, "... responsive to the visitor in a friendly and flexible manner while ensuring a comfortable, clean, educational, and entertaining visitor-variable environment at an affordable cost." (6)


Dinosaurs visit COSI. The main part of the 1st floor is converted to an area to keep the fearsome (and not so fearsome) animals. "The Dinosaurs!" sets several single-day attendance records of more than 10,000 visitors. More than 106,000 people visit during January." (7) They would appear regularly in the late 80s and resulted in "down-the block lines and a single day attendance record of 11,000." This also started thinking that COSI may have outgrown Memorial Hall. (9)
1987: COSI hosts the traveling exhibit, "My Daughter, the Scientist," designed to showcase women in science and technology." (7)
1988: "COSI welcomes its 7 millionth visitor Nov. 12, Joe Horrigan and his family from North Canton, Ohio." (7)
1989: "To commemorate its 25th anniversary, COSI launches the first Ohio Statewide Science Workshop, a program that puts "fun" science materials into the hands of 2.1 million students and teachers." It also has a big celebration with balloons outside.


"Special Effects: The Science of Movies and Television" becomes the most-popular exhibit in COSI history, attracting 311,654 visitors in less than three months. Special controls allow visitors to move King Kong's face and Steve Martin's "nose" from the movie Roxanne." (7)


COSI celebrates its 8th millionth visitor.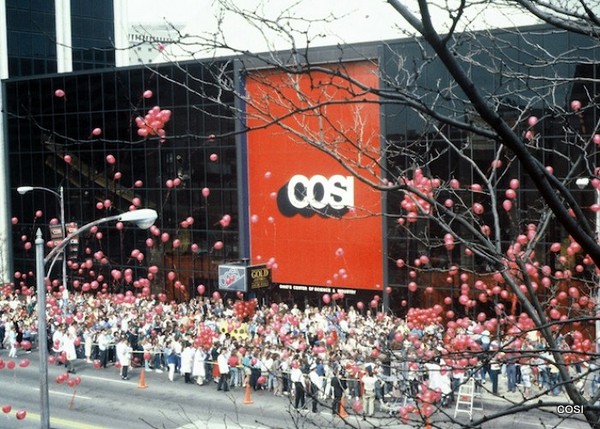 1980s: In addition to others listed above, the 80s saw the following come to COSI: (9)


The Yellow Submarine


The Computer Experience


The Cracker Jack Exhibition


The Energy Exhibit


Thomas Edison technology exhibit


Life or Litter Show


The Living Room Theater/Life Science Show


The Space Shuttle Tile Show


The High-Tech Showcase (replacing the Battele Theater), featuring Cyro, the articulated industrial robot


SUPER SUMMER SCIENCE SHOWS
1990: "The Ohio Science and Technology Hall of Fame recognizes 20th-century Ohioans and their contributions to science, technology and industry. COSI launches its annual Young Experimental Scientist program - a one-day enrichment conference for elementary- and middle-school teachers and their students." (7)
Early 90s: LITTLE KIDSPACE and BIG KIDSPACE are converted to KIDSPACE and FAMILIESPACE.
February 14th, 1991: LIMITEDSPACE opens. LIMITEDSPACE allows guest an opportunity to see a variety of traveling exhibits. We also get the outdoor Science Park added at this time. With these additions, COSI has 180,000 square feet of space. (9)
January 15th, 1991-June 2nd, 1991: Mission to Mars visits COSI in LIMITEDSPACE as its first exhibit. In this attraction, visitors can learn about the red planet. (Note: I know dates conflict with above, different sources).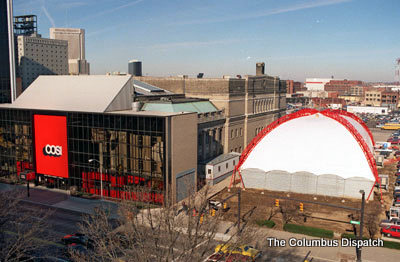 Late 80s/early 90s: It's decided that a new COSI will be constructed. Boards in the main lobby start informing guests that COSI will be moving to the riverfront in specific years. The date will be pushed back several times and COSI remains for almost a decade.
1990s: A variety of exhibits will visit LIMITEDSPACE. These include Newton's Playground, Mind Zone, Bionics and Transplants, Antarctica, What Makes Music, Movie Special Effects 2, the Brain, Africa, and many listed below. (9) One of these looks at the games we play. While these exhibits are only here for a short period of time each (usually several months), COSI is open to visitors everyday except: Christmas Day, Christmas Eve, New Years Day, Thanksgiving, Easter, and the 4th of July.


COSI is being operated with 10 divisions: Finance, Support, Exhibits, Presidents, Marketing, Planning, Development, Membership, Education, and Reservations. (6)
1990s: During the decade, we see a few other regular exhibits come as well including: (9)


Laparoscopy


HeartSpace


BabySpace


Cancer


Water Wonders


COSI pioneered the Ohio Statewide Science Workshops.
1990s: "COSI's Camp-In program is recognized as the largest informal science program for young women in the world. More than 600,000 have participated since 1972" Science Park opens outside LIMITEDSPACE
1991: COSI's annual Christmas celebration gets upgraded with the Amazing Laser Christmas Tree starting in 1991.
April 1992: COSI's new look comes in effect as it changes its logo from its traditional building shaped symbol to a purple logo with stars (6). COSI decides that it's all about "Science, Learning, and Fun" as that slogan comes into use. COSI would gradually replace the signs around the building and outside and purple would replace red as COSI's primary color. This symbol would be used until COSI moved.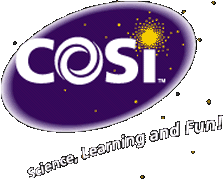 Summer 1992: Brain appears in LIMITEDSPACE. (6)
Fall 1993: Liquid Vision appears in LIMITEDSPACE for the first time. (6) This exhibit (like several others) was constructed partially by COSI itself.
1993: "A new Cancer Exhibition focuses on the nature of cancer and the importance of a healthy lifestyle and early detection. COSI welcomes its 10 millionth visitor and its 1 millionth COSI On Wheels outreach experience." (7)
Winter 1994: Square Wheels appears in LIMITEDSPACE. (6)
Summer and Fall 1994: Virtual Racing and Square Wheels appears in LIMITEDSPACE. (6)
1994: COSI is recognized by Diversion magazine as one of the top six U.S. science museums.
January 21st-May 19th 1995: Whodunit? (The Science of Solving Crime) appears in LIMITEDSPACE. (6) Visitors go through the process of solving a criminal mystery.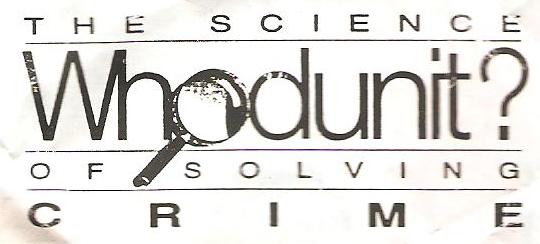 Summer 1995: M˛M appears in LIMITEDSPACE. (6)
Fall 1995: Mind Zone appears in LIMITEDSPACE. (6)
December 1995: Volume 1 issue 1 of "First Hand News" is printed. (5)
1996: www.cosi.org appears and is under construction. COSI Columbus's website would become www.COSIColumbus.org (although I can't find anything on the Wayback Machine here prior to 2002).
Winter 1996: Movie Special Effects appears in LIMITEDSPACE. (6)
May 1996-January 1997 The Science of Sports comes to COSI in LIMITEDSPACE.